Wellbeing at Dimiour – Fuelling Body, Mind, and Purpose
Wellness is multifaceted and embraces all areas of life, including physical, mental, emotional, spiritual, social, and environmental. Wellness is not a static state but a continuous evolution impacted by all aspects of life.
Work is an integral part of life; therefore, balancing wellness in the workplace is critical. At Dimiour, we undertake several proactive programs and initiatives to promote health and wellness for all our employees.
Dimiour explored various avenues to benefit employees, such as wellness webinars, health camps, awareness drives, and counseling workshops to work towards workplace wellness.
The wellness program was thrust into the spotlight during the pandemic when people were confined to their homes, suffering from stress, anxiety, and other health issues. To enhance our employees' wellness Dimiour took on several initiatives and programs.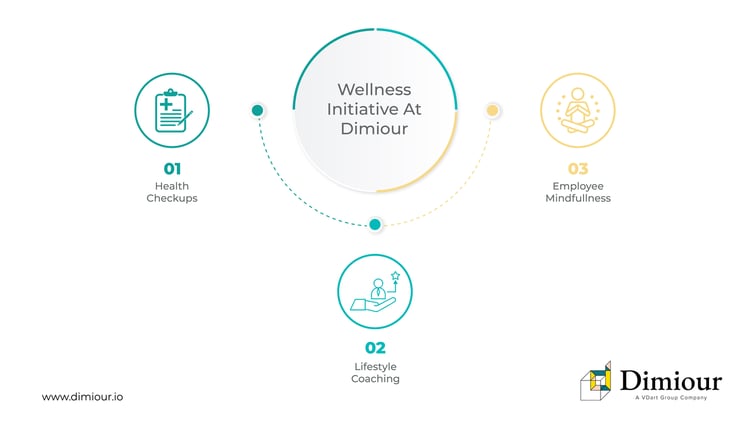 1. Health checkups and wellness workshops:
To help employees manage their health, Dimiour regularly organizes special heart and dental health awareness campaigns to share the importance of heart and dental health.
We support several first aid and vaccination camps annually to safeguard the present and future of our employees. Other initiatives include mind and body refresher sessions, managing mental health sessions, and happiness-building sessions.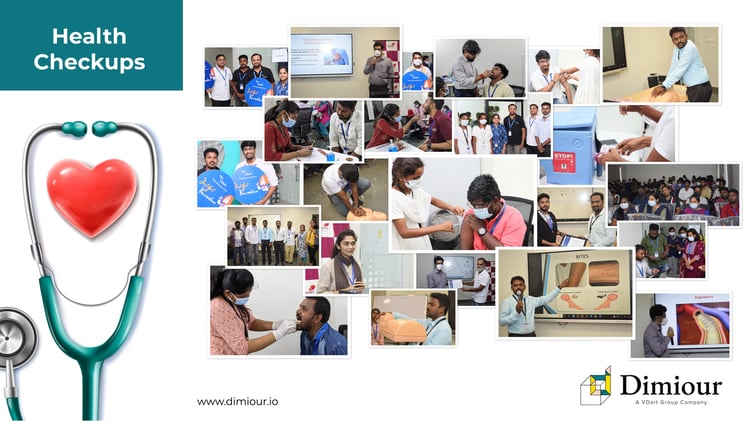 2. Lifestyle

Coaching:
According to WHO, 60% of related factors to individual health and quality of life are correlated to lifestyle. Our lifestyle plays an essential role in shaping our health. To help people develop a better lifestyle, we have taken several initiatives and training programs by industry experts in yoga and wellness.
Our employees say that our workshops on Ayurveda, yoga, and health have helped them progress from sedentary lifestyles and include healthy activities like sports, meditation, and yoga as an essential part of their daily routine. They see a positive impact on their lives and have a synergy of passion, zeal, and determination in their work and personal life.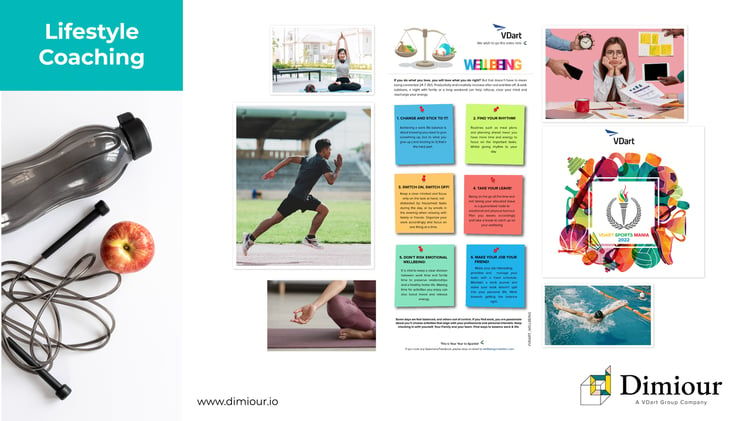 3. Employee Counselling and Mindfulness Training:
Living in the digital age, our mind is surrounded by several distractions and stress; anxiety is bound to affect how we think and function. During the lockdown especially, everyone was dealing with their distress and for people to talk about what they were experiencing and channel their emotions was tough. We organized digital well-being, employee counseling, and mind training workshops.
Our workshops were an excellent tool for our people to relieve their stress, feel a rhythmic balance, and have efficient productivity in everything they do. The meditation and counseling sessions attracted more and more people, and they knew they had someone to talk to. Organizing yoga workshops helped people to concentrate more and have a well-balanced life, leading to a win-win situation for everyone.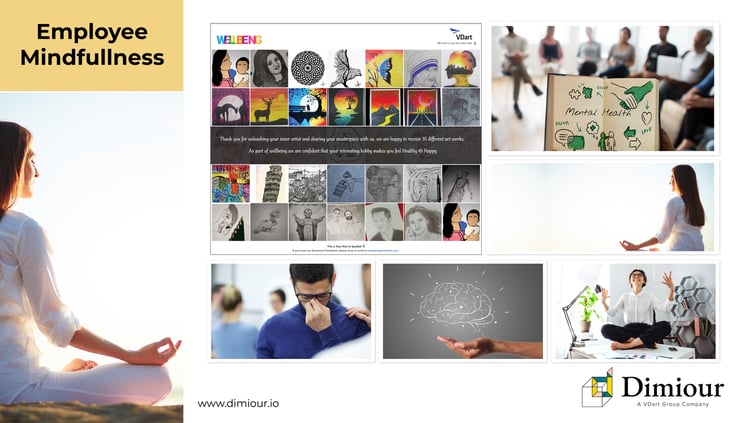 These are just a few daily steps to promote wellness and purpose for our employees. We firmly believe that well-being initiatives are essential to employee enrichment and inspiration. Our initiatives have fruitful outcomes, and our employees speak to us about the positive impact.