MBN Texas: Creating Opportunity
VDart earns Toyota's IT Services Diverse Supplier of the Year - again
By Tonya McMurray
Dimiour, a VDart Group company was recently highlighted in an article by MBN Texas's Tonya McMurray.
Original Article link: https://digital.mbntexas.biz/?issueID=31&pageID=22
VDart Group has achieved many traditional measures of business success: Rapid growth, numerous awards and large customers. But founder, President and CEO Sidd Ahmed measures the company's success a different way: The impact on employees, customers and communities.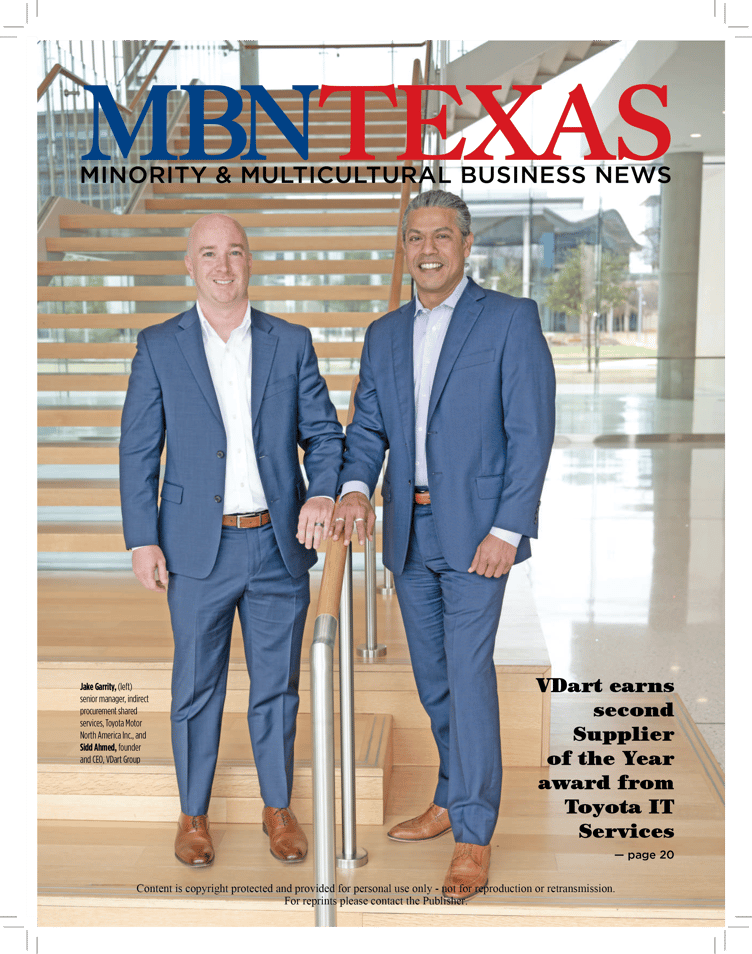 "What I'm most proud of is creating opportunities for over 15,000 people in the last 14 years," he said. "Our purpose as an organization is to transform the trajectory of people's lives. Our vision is to touch the lives of people to create success, wealth and quality of life – whether we are in the talent management business creating opportunity for people every day or solving a tough technology problem for our customer."
When Ahmed reflects on VDart's successes, he takes pride in the way VDart transformed employment opportunities in his hometown of Tiruchirappalli, or Trichy, India.
"It's a small college town," he said. "People generally come there just to study, and they're gone. People are not in a position to raise their families there because there's no large employer."
When he started the firm, Ahmed opened a back-office operation in Trichy and began hiring young college graduates. Today, that office is a 650-person team providing the back-office engine that supports VDart's global operations.
Building success
Ahmed founded VDart in 2007 as a technology workforce solutions company, and it has grown to the 42nd largest staffing company in the U.S. In 2017, VDart expanded into digital engineering solutions and services as VDart Digital which last year was rebranded to Dimiour. The company has offices in the U.S., Canada, the U.K. and India with annual revenue of $242 million.
VDart has earned multiple awards in recognition of its rapid growth and as a great place to work. The company has been listed eight times on the annual Inc. 5000 list of the fastest-growing private companies in America. Plus Dimiour was named Toyota Diverse Supplier of the Year – IT for both 2021 and 2022.
"This award from Toyota is the most prestigious award we have ever won," Ahmed said. "Coming from an organization like Toyota that is so quality-centric, it means a lot. It shows our depth of experience in the automotive market, our technical expertise, the quality of our solution delivery, excellence in service, and our focus on diversity, sustainability and purpose. Those have been the pillars of our success."
Jake Garrity, senior manager for indirect procurement shared services with Toyota North America, said Dimiour has been a consistently strong supplier for Toyota since 2017 when Dimiour did a small proof of concept project for one of Toyota's manufacturing facilities.
"Any time we see a supplier excel the way Dimiour has, it's because of an alignment with Toyota's core values of respect for people and continuous improvement as well as a commitment and focus on quality and cost competitiveness," he said. "We view Dimiour as a strategic partner so we are actively working to introduce them to other groups in the company to continue to expand their opportunities."
Ahmed recommends minority suppliers take advantage of the tools and programs offered by the National Minority Supplier Development Council and their local regional council as well as mentoring programs offered by large corporations.
"Think big, and then when you've got an opportunity, act quickly," he said.
Toyota's Gerrity adds that MBEs should prepare themselves for large opportunities while also recognizing it will take time to partner with a large corporation, and initial prospects may seem small.
"Many times suppliers want the big project or the big contract right away," he said. "That rarely occurs. Instead, those who are successful have patience and focus on their core niche where they are the strongest. Then, when they do get the opportunity, go all in and deliver with quality."
Corporate responsibility
Along with a focus on quality and value for customers, VDart is committed to strong corporate social efforts. Ahmed said the company has a clear vision for its efforts: "to be loved by the communities we live and operate in."
The company seeks to involve all employees through the creation of interest groups and by allowing teams to identify causes important to them. VDart supports those causes through monetary and in-kind donations and by providing employees the opportunity to get involved in charitable causes.
VDart is the first company to participate in an Accenture Diverse Supplier Development Program (DSDP) on sustainability, and it has committed to becoming a United Nations-certified organization for sustainability.
VDart Digital is now Dimiour (A VDart Group Company). Please check www.dimiour.io for more information.